For many people, cars are their most prized possession. They're expensive machines, but this can also extend to their upkeep even after they've initially been paid for. That means that when things go wrong, some drivers struggle to keep on top of repairs, maintenance or bills that are associated with owning a vehicle. This, amongst other things that we'll discuss on this page, can lead to cars being left to rot at the side of the road. It can seem like a total waste, but we're here to explain what happens to these motors once they're finally removed.
Perhaps your own car is on its last legs and you're worried about it becoming worthless to the average private buyer? Don't even think about ditching it – sell it with National Scrap Car, where our experienced scrap and salvage buyers know exactly how to get the most value out of your old motor! We'll find you the best offers from Authorised Treatment Facilities in your local area and even arrange for the car to be collected and taken away at no extra cost. Give us a call on 0800 86 20 958 or enter your vehicle reg and postcode on our website to get a valuation on your motor now.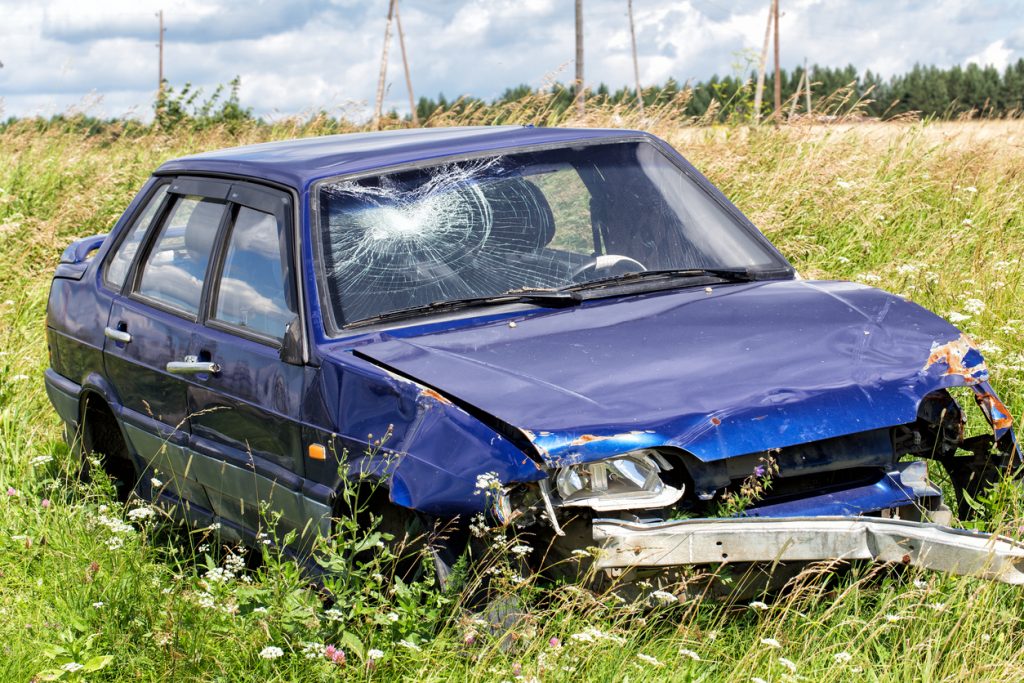 What Is An Abandoned Car?
We're not trying to insult your intelligence – allow us to explain what classes a car as abandoned by the letter of the law. The authorities will run through a checklist of criteria to decide if a vehicle of any kind is actually abandoned rather than simply being left unused for a while. Gov.uk lists the following as considered points:
The car

has no registered keeper

on the DVLA database, and is untaxed
The car has been stationary for a significant period
The car is significantly damaged, worn out or not fit for use on the road (including things like flat tyres or broken windows)
The car has been set on fire
The car is missing a number plate
As you can see, some of these are more extreme than others. It only needs one of these circumstances to be true of any motor for it to be considered abandoned, but that doesn't mean that cars will be towed from the roadside as soon as a number plate falls off. In some cases, multiple criteria will have to be met. Each individual scenario will be investigated, though it's unlikely it'll take much thinking to decide if a burnt out motor needs to be removed…
What Happens To Abandoned Cars?
The fate of an abandoned car depends on the condition that it's in when it's found and determined to have actually been abandoned. If the car is unroadworthy, it can be scrapped or salvaged (meaning it will, essentially, be destroyed once and for all) or if it's better off, it can be sold at auction. The choice rests with the council that is responsible for disposing of the car.
In either case, the motor can only be disposed of immediately if it's only fit to be destroyed or it has no number plates or tax disc. Otherwise, the owner of the car must be searched for and, if found, they must be given seven days notice to come and collect the vehicle before destroying or selling it. The owner, however, will have to pay the fees for removal and storage of the car to be entitled to it once again.
If a car is sold at auction, the owner has a whole year to come forward and claim the money that it earned with those same storage and removal costs, plus auction fees, deducted from the total.
Do Abandoned Cars Get Scrapped Or Salvaged?
If a car is abandoned in poor condition and not claimed back by the owner within one week of them being found and informed, it will be disposed of by a professional Authorised Treatment Facility (ATF). These cars will be scrapped or salvaged, depending on the condition that they're in. Many abandoned cars are left in terrible states of disrepair, with some being deliberately damaged or vandalised. In this case, they're more likely to be scrapped than salvaged. Whatever happens, the good news is that they will be recycled.
Can You Buy Abandoned Cars?
If a car has been abandoned but is still in a roadworthy state (or close to it) then they can, if the authorities choose to do so, be sold at auction. These motors will be up for grabs by anyone in attendance who is willing to outbid fellow visitors on the day. Car auctions can be an excellent way to find a bargain on a used car, but bear in mind that many of them will have chequered pasts – whether that's a history of accident damage that needs repairing or even usage in criminal activity!
Can National Scrap Car Buy Abandoned Cars?
Our business would be a whole lot healthier if we were legally allowed to take a vigilante's approach to removing abandoned cars, but that's not the case as we're sure that many angry neighbours would be requesting for cars to be removed from their street willy-nilly. If a National Scrap Car ATF was to purchase an abandoned car, it would have to go through the appropriate authorities first.
Cars On Public Land vs Private Land
The laws differ slightly when thinking about cars that have been left to rust on public land (like a standard road) and private land (like gardens, driveways or even privately owned car parks).
While publicly abandoned cars follow the rules above, with owners being given seven days to pay up for the motor to be released, if it's been left on private land the landowner is given a minimum of 15 days before legal action can be taken. Of course, this doesn't apply to a car that's simply been SORNed by the owner, as many drivers choose to do, particularly in the winter months.
Get The Best Price With National Scrap Car
If your car's appearance or performance is so poor that you want to abandon it and never look back, send it out in style instead with a trip to the crusher. National Scrap Car will track down the highest offers for your motor from professional scrap and salvage specialists in your local area, wherever you are in the UK. We even let you choose a date and time for it to be collected from you at no extra cost! There are no hidden fees here – just healthy payment offers, great service and quick collection. Give our team a call on 0800 86 20 958 or enter your vehicle reg and postcode on our website for a quote now.