On this page:
Get the scrap car prices that you deserve by getting in touch with National Scrap Car today. Car scrap value does constantly fluctuate due to the ever-changing values of steel and other metals, but as we keep our database constantly up to date with the latest prices, the sum that we offer you will be entirely correct and in line with the true value of your car. It doesn't matter what condition your car is in, it is bound to be of value even if it is no longer fit for the road due to any re-useable parts that it contains as well as the metals themselves. Even if your car has failed its MOT or repairing it simply isn't financially viable, this does not mean that it cannot be worth a large sum. In the past, drivers often had to fork out to have their un-useable cars removed from their possession but it's now easy to get your cars taken away not only free-of-charge but in exchange for a considerable sum too. Whilst some scrap car dealers may not play by the rules, with us you can rest assured that your car will be taken to an ATF – an Authorised Treatment Facility – when scrapping needs to take place. If your car is a salvage vehicle we can offer even better prices.
Scrap car comparison prices
It's easy to compare UK scrap car prices with National Scrap Car.
Step 1: Input your vehicle registration and postcode into the quote form and click the instant quote button.

Step 2: Check your vehicle details and postcode are correct. Check the Alloy wheels selection for your vehicle.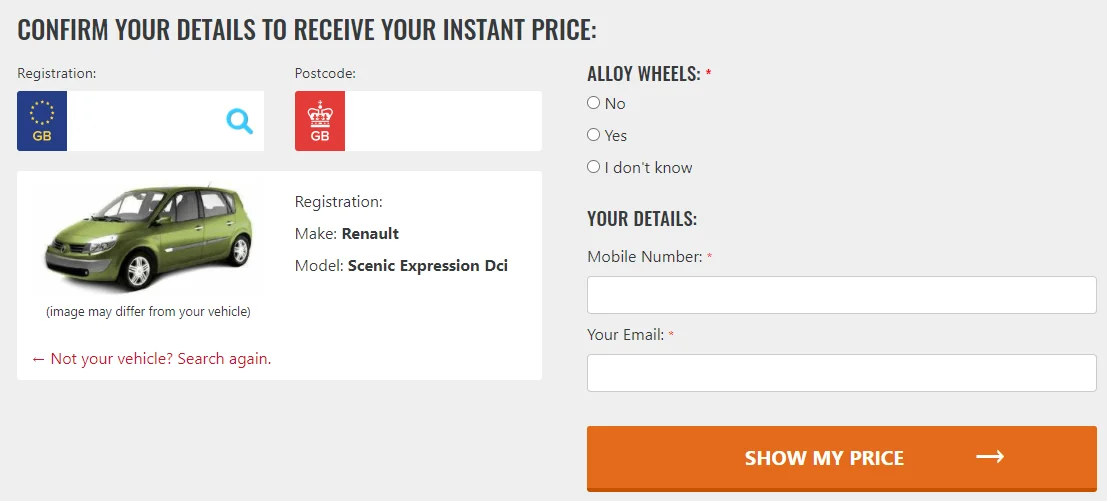 Step 3: Add your contact details so we can give you the best price for your scrap car.
Once done, click the Show My Price button and we'll gather the best prices from our large network of buyers. You can then compare scrap car prices from local collectors.
Our online quote service will get you the scrap my car best price UK wide.
Beating any car scrap value quote – our price Guarantee!
If you've struggled to find a buyer for a repairable car, help is at hand. Even when a car has been written-off by an insurance company, this does not mean that it cannot be sold. There is a vast market for repairable cars, and there are many people who repair badly damaged cars as a hobby, saving money on labour costs by working on them themselves, whilst saving vast sums of cash in comparison to buying a new car. Finding out the price you could receive for your car couldn't be easier, and our customers are regularly surprised by the generous fees offered. We'll offer the best scrap car value for vehicles that have failed their MOT, have missing parts or have been written-off by insurance companies because we consistently believe that there's no such thing as car with no value at all. You can also sell us your scrap van too!
There's no money to pay out when you sell your unwanted car to us but everything to gain.
Working around you
We're also extremely flexible when it comes to the times we can collect your scrap car, and punctual too. Don't take the day off work waiting around for the doorbell to ring. We can collect your car around the clock, and in very short notice too due to the high scores of car scrappers we have situated all around the country. To find out how much money for scrap cars you'll receive, you simply need to call us or fill in the online quote form, and give us a few details about the condition of your car and we'll supply a quote right away – and we'll even beat any other quote you'll receive from any reputable source. Scrapping a car for cash is easier and more prosperous than it's ever been. Get higher scrap car prices UK today.