Choose National Scrap Car to get the highest possible price for your vehicle. You won't pay a penny to scrap your cars with us, and no matter where you live we can guarantee that we can match you up with a nearby buyer happy to exchange your motor for the sum that you deserve. Transactions are swift, with the price you're quoted on the phone or by e-mail being the price you'll receive. Our buyers are required to stick by our strict set of customer-friendly guidelines, making us one of the most trustworthy and reliable 'scrap my car' services around.
Find a genuine quote from any recognised competitor and we promise that we'll beat it. What's more is that you can relax safe in the knowledge that our 'car scrap' service is completely eco-friendly, with only Government approved recycling facilities being used. You're free to arrange a car collection time that suits you, with all relevant paperwork being filled in comprehensively before the car is taken away. If you're seeking a fast transaction, we can help you with that too. We collect hundreds of cars every day across the country using our vast fleet of recovery trucks and only work with the most friendly and courteous drivers. You'll never see drivers attempting to re-negotiate the price you've agreed to accept for your car when they reach your door – the price you're quoted for car scrappage really is the price that you'll receive.
A swift car scrappage transaction
Stick with one of the most organised and professional car scrap services around and put your mind at rest. The process couldn't be simpler – simply get a quick quote from us, agree to it and we'll ensure that the transaction is completed as soon as possible. Also, it's not just unwanted cars we deal with – we'll also pay the highest rates for scrapping vans and motorbikes too.
Collecting Scrap Cars All Over The UK
At National Scrap Car we provide scrap car removal services the length and breadth of the UK. we have partnered with hundreds of local and national scrap yards who bid for your car, giving you the most competitive price for your scrap car. Where possible your car will be scrapped with an authorised local scrap dealer who will recycle your vehicle in line with national recycling legislation.
Our network of scrap car dealers will pick up your vehicle at a convenient time for you and directly from your driveway or a place of your choosing. From the highliands of Scotland, to the counties of Northern Ireland, all of Wales and up and down England we provide nationwide coverage.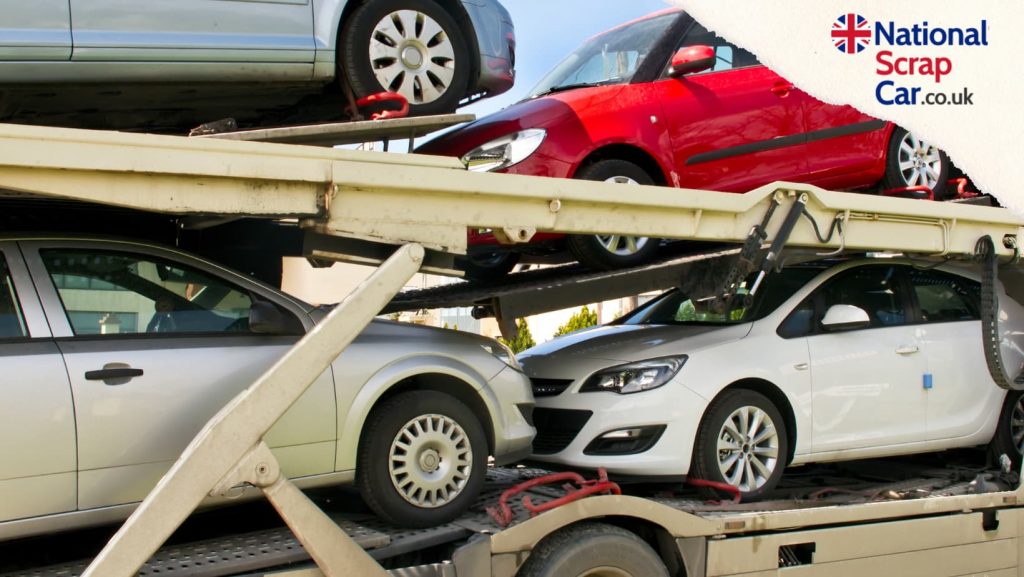 Easy and Reliable Car Scrappage Services
Car scrappage with us is based around the requirements of you, the customer. Our price comparison engine lets you choose the best price from a number of bidders for your scrap car. In some circumstances we can offer more than simple scrap prices if your vehicle is deemed salvageable. Our expert scrappage staff then confirm your details and the car's details before pickup is arranged. You can ask any questions, whether it be about the scrappage process, paperwork or options available.


Why Scrap Your Car With Us?
When you decide to look for a scrap car service, it's important to make sure that all the legalities are looked after. Enlist the services of a less-than-reputable cars for scrap service and you risk paperwork not being filled in, dealing with an unlicensed service and waiting around as drivers don't arrive at your door on time. When scrapping a car you want a professional service that is both easy and transparent. Better yet, you want to ensure you get the best possible price for your scrap car. There's no price negotiation or upselling, the price is agreed in advance and we make payment to you the same day the car is picked up.
Car scrap – the legalities:
We'll also issue you with an official DVLA Certificate of Destruction for any scrap vehicle. It's important to ensure that this document is produced and your car's scrap status added to the DVLA's database. Without this document, you could find yourself fined by the DVLA and if your car is later used for illegal activity, could find yourself in hot water with the law too. So, don't leave anything to chance, stick with us and we'll ensure that the scrappage of your car is a legal and financially beneficial process. We'll match you up with the most trusted buyers, best process and fastest handover of cash around. With a wealth of 'cars for scrap' services around, it stands to reason that some are more trustworthy than others, so choose a company that prides itself on its professionalism and standards.
Recent customer reviews
Dubious that I would actually get what was offered over the phone as full payment not sent through until vehicle has been collected, however it was confirmed and all paid into account by end of the day of vehicle collection. Excellent service from initial contact through to payment. Thank you.
Really impressed with everyone we spoke to and the whole process from start to finish – within 2 working days the car was collected and money paid. No hesitation in recommending this company.
Highly professional and reliable company. Would definitely recommend their services without any hesitation.
Fantastic service would highly recommend this company, no hassle and communication every step of the way.