If you're looking for the most efficient and customer-friendly scrap car collection service around, you've come to the right place. No matter how old your car is, or what condition it's in, we can guarantee to match you up with a local buyer. As prices fluctuate for scrap vehicles, we're constantly updating our database to ensure that your get the price for your car that you deserve. You won't find our buyers trying to re-negotiate the price you'll receive for your car when they reach your property, but will find that all the relevant paperwork will be filled in and payment made on the spot, when your car is collected. Our buyers are expected by us to always reach your property on time and at a time that suits you, meaning that you won't have to change your plans or waste time waiting around for them to appear.
Scrap car removal the easy way:
Getting a quote is simple, and you can do this easily and quickly by phone or by e-mail. Simply give us the registration number of your vehicle and tell us a few details about its current condition and we'll instantly work out a price for you, which you are free to accept or decline without further obligation. Our collection service surpasses many of our competitors', as our commitment to the environment is robust and our standard constantly high. We can arrange a scrap car removal time as soon as you've accepted the quote, meaning that if you need cash now, it can be in your bank account within a day or so.
Our simple collection process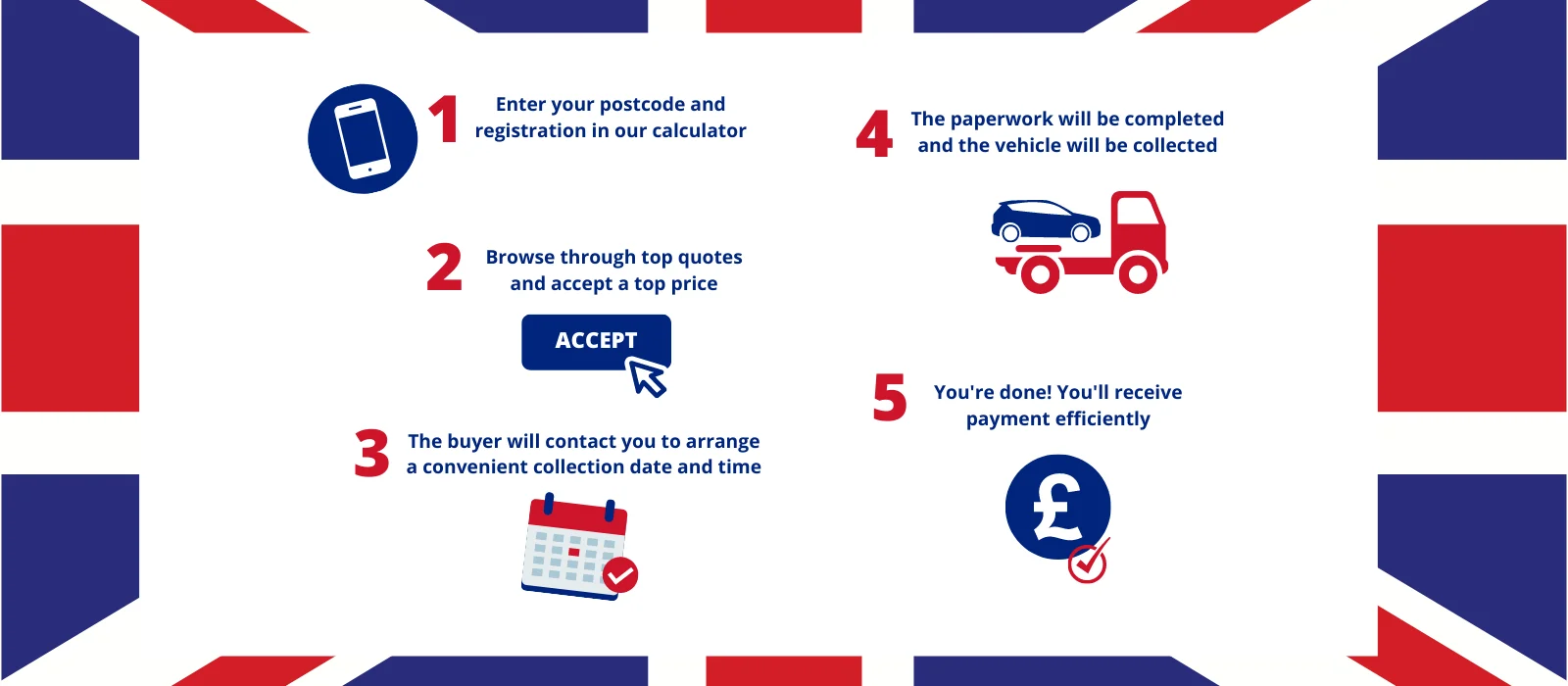 Scrap car collection near me
Our large network of scrap car collectors means that we can come and pick up your vehicle from you throughout the UK. We'll come get it from your home location, garage or any other convenient place and take it away. Scrapping has never been easier with National Scrap Car. 
Once collected we take it to an authorised treatment facility and make sure that it is scrapped in the most environmentally way possible.
We collect cars all over the UK
We can collect from anywhere in the United Kingdom, from the urban and populated regions of London, Manchester and Birmingham to the rural sticks of Cornwall, Northern Scotland and the Welsh Valleys. Don't believe us? Give us a go, our drivers welcome the challenge!
What type of scrap vehicles do you collect?
We'll collect any scrap or salvage cars or vans that you'd like to make some money from. The types of vehicles we'll collect include:
Non-runners
Scrap vans and cars in any condition
Crashed, damaged or incomplete vehicles
Salvage and repairable vehicles
Many other types – just ask!
Why choose National Scrap Car?
We offer the best price for you vehicle, no matter where you are located.
Our simple process is quick and easy.
We're a professional company with years of experience, offering a high level of customer service and customer satisfaction.
We use government licenced, environmentally friendly recycling facilities, ensuring your vehicle is scrapped responsibly.
We're open 6 days a week and can collect at the most convenient time for you.
Scrap Car Collection FAQs
Do you have all of the relevant certifications and legal requirements to remove my car?
Yes! National Scrap Car is a certified service provider, operating ethically and responsibly scrapping vehicles across the UK. We only work with Authorised Treatment Facilities (ATF) and specialist buyers, ensuring all vehicles are handled and disposed of in a safe, environmentally friendly way. All of our sales advisors are fully trained, and all of the buyers on our network are checked, verified and regularly monitored to ensure they uphold the high standard of work we carry out.
Can you do same day collections?
To ensure you get the best price for your vehicle, and that you find the right buyer, the typical turnaround time for a collection is usually 1-3 days. We work around you to make sure your vehicle is collected on a mutually convenient date for both yourself and your chosen buyer. This could be the next day, or in a couple of days to work around schedules.
What does the collection process involve?
On the day of your collection, your chosen buyer will typically give you a courtesy call to ensure you're ready for collection. Upon arrival, all of the documents will be checked, the V5C (logbook) will be completed and all of the necessary paperwork and keys will be handed to the buyer. The vehicle will then be loaded onto the recovery vehicle, and if you've opted for payment via bank transfer, the buyer will take your details to start the payment. If you've opted for payment via cheque, the buyer will write you a cheque. Once the vehicle is loaded, the process is complete and the vehicle will be taken away and you will receive payment for the vehicle. If you've opted for a cheque payment please allow 3-4 working days for this to process.
Are your offers really the best price I can get for vehicle scrappage?
Our quotes are the most competitive in the market. This is because our scrap value calculator looks at the main factors affecting the prices and compares these values with our network of buyers, ensuring you get the best price. The price of scrap metal will affect how much money it's worth. To get an instant valuation for your vehicle simply input your registration and postcode into the form above. Using this information we can offer you a guaranteed valuation for us to come and collect your car.
The vehicle is in missing parts, will this affect the price or likelihood of collection?
No! We have a whole network of scrap and salvage buyers who have a wealth of experience in collecting different vehicles in many different conditions. Whether you've got parts missing, or the vehicle is severely damaged, we can offer a range of quotes from our network buyers. As long as your vehicle has been described accurately and honestly, and your chosen buyer is fully aware of the condition of your vehicle, then the price you're quoted is the price you will receive. If you're unsure if your vehicle is suitable for scrapping, get in touch with one of our friendly advisors for advice, information and quotes.
Do you pay more for a vehicle in better condition?
The prices you'll get offered for your vehicle will be affected by a number of different factors. This includes:
The weight of the vehicle – the greater the weight, the greater the value.
The vehicle make – certain makes of vehicle will be worth more than others.
The vehicle model – as with makes, certain models will be worth more than others.
The condition of the vehicle – if a vehicle has salvagable parts or could be repairable, it's value will be higher.

Do I need the keys, log book, service history or anything else for you to collect?
In order to collect your vehicle, we will need all sets of keys and while not always necessary, it's handy to have the vehicles logbook. Any service or MOT history documents are not essential, but if you do have any it's beneficial to bring. You will also need proof of ID, either a driving license or a passport so our buyers can verify who you are. If you are missing your log book and want to replace it, find out more in our logbook guide.
I can't meet you at the collection point at the set time, will this be an issue?
If you can no longer make the collection time, please let your chosen buyer know at the earliest convenience so they can arrange an alternative collection time.

Can you help me with the ownership forms for the DVLA?
Yes! Upon collection our buyers will give you a hand with the necessary paperwork and answer any questions you have on sending the forms to the DVLA.