If you're looking for the most efficient and customer-friendly scrap car collection service around, you've come to the right place. No matter how old your car is, or what condition it's in, we can guarantee to match you up with a local buyer. As prices fluctuate for scrap vehicles, we're constantly updating our database to ensure that your get the price for your car that you deserve. You won't find our buyers trying to re-negotiate the price you'll receive for your car when they reach your property, but will find that all the relevant paperwork will be filled in and payment made on the spot, when your car is collected. Our buyers are expected by us to always reach your property on time and at a time that suits you, meaning that you won't have to change your plans or waste time waiting around for them to appear.
Get your car scrap picked up the easy way:
Getting a quote is simple, and you can do this easily and quickly by phone or by e-mail. Simply give us the registration number of your vehicle and tell us a few details about its current condition and will instantly work out a price for you, which you are free to accept or decline without further obligation. Our collection service surpasses many of our competitors', as our commitment to the environment is robust and our standard constantly high. We can arrange a scrap car removal time as soon as you've accepted the quote, meaning that if you need cash now, it can be in your pocket within a day or so.
Our simple collection process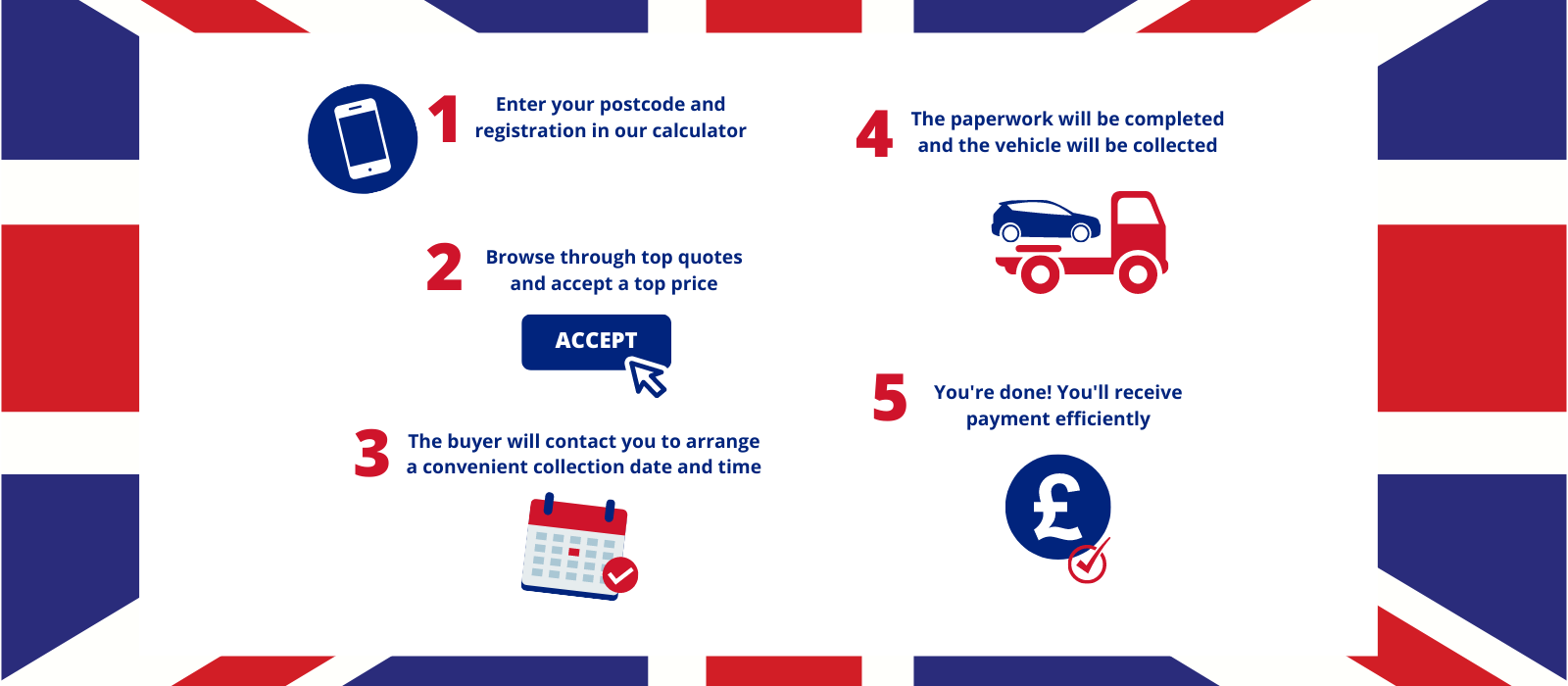 Scrap car collection near me
Our large network of scrap car collectors means that we can come and pick up your vehicle from you throughout the UK. We'll come get it from your home location, garage or any other convenient place and take it away. Scrapping has never been easier with National Scrap Car. 
Once collected we take it to an authorised treatment facility and make sure that it is scrapped in the most environmentally way possible.
What type of scrap vehicles do you collect?
We'll collect any scrap or salvage cars or vans that you'd like to make some money from. The types of vehicles we'll collect include:
Non-runners
Scrap vans and cars in any condition
Crashed, damaged or incomplete vehicles
Salvage and repairable vehicles
Many other types – just ask!
Why choose National Scrap Car?
We offer the best price for you vehicle, no matter where you are located.
Our simple process is quick and easy.
We're a professional company with years of experience, offering a high level of customer service and customer satisfaction.
We use government licenced, environmentally friendly recycling facilities, ensuring your vehicle is scrapped responsibly.
We're open 6 days a week and can collect at the most convenient time for you.