On this page:
Scrapping is a simple and convenient alternative to selling, it can also be a great way to make some extra profit – and you could get more than you think. Here at National Scrap Car, we understand the value a scrap vehicle holds, so we wanted to share with you the key areas that will affect the value of your motor and how much money you could get for it. Plus, we'll show you how to use our easy, free price valuation for a quick calculation of how much you could get to scrap your car or van.
Factors Influencing Scrapping a Car for Money
How much your scrap car or van is worth depends on a number of different factors. Read on to find out the key areas which influence the value of your scrap vehicle.
The Size and Weight of Your Vehicle
A good indicator of the scrap value can be found in the size and weight of a vehicle. This is because most scrap prices are calculated by the tonne-weight of your motor, so generally, the larger and heavier the vehicle is, the more scrap metal can be taken from it and this means you could receive more money. 

Age and Condition
The age and condition of a vehicle is where a lot of value can be found. Generally speaking, the newer the vehicle the more parts that could be salvaged from it, so you're likely to receive a better price. However, the condition has just as big of a part to play in a vehicle's value. If your vehicle is in a poor condition, regardless of the age you might not receive the highest price, but you could still make a profit on it.
Make and Model
The make and model of a scrap vehicle may not seem overly relevant in comparison to the age and condition, however, a more expensive make and model will obtain a higher quote than a cheaper make and model. Plus, the technology in certain models can be more useful and appealing than in older models, which is why you may see a difference in prices. Other vehicles may be in more demand, or more popular or more rare.
The Valuable Parts
Your scrap vehicle could be worth more if it has valuable parts, parts that can be recycled and reused in other vehicles and various objects. Especially if your vehicle is newer, in great condition, or if it's a more bespoke or rare model.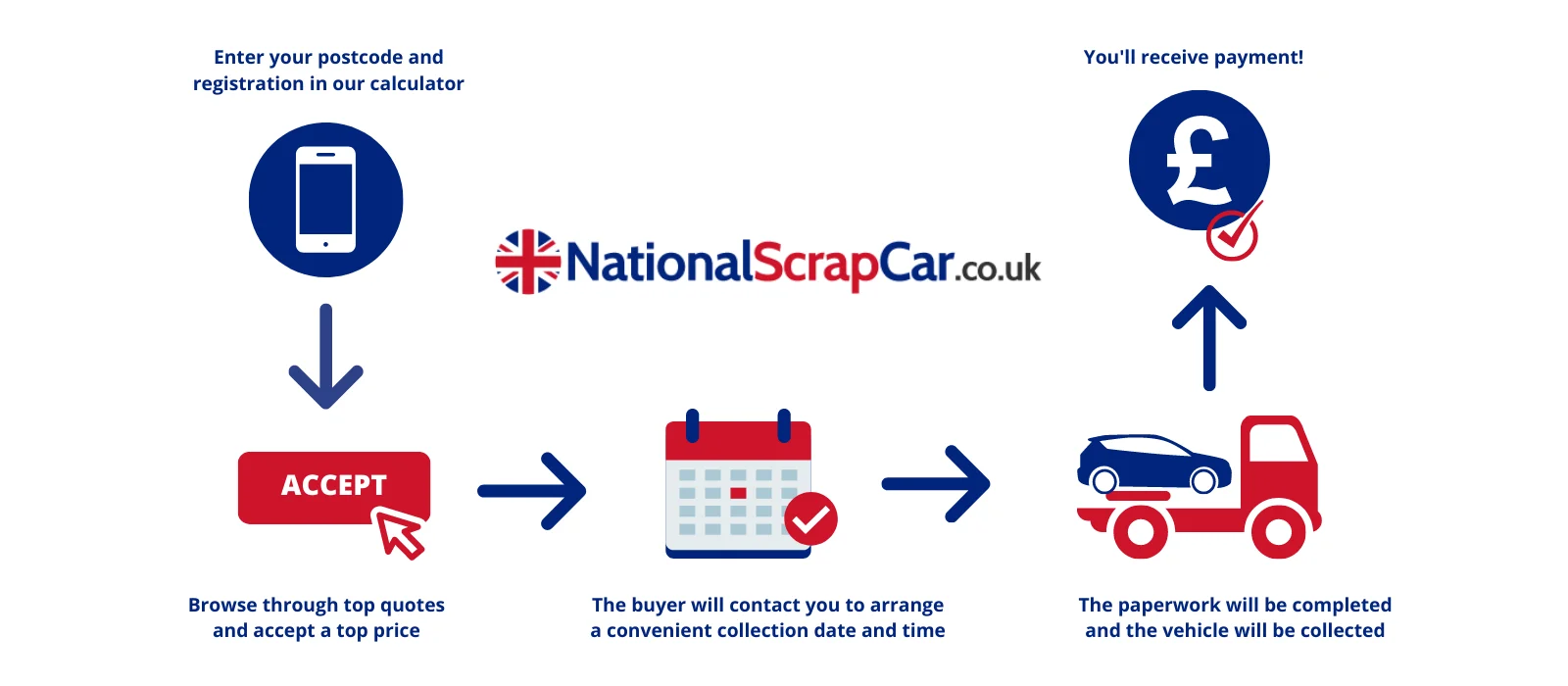 How to Scrap a Car for the Most Money?
The value of your scrap vehicle can vary based on some key factors, however, the good news is that you can control some of those factors. Read on to find out how to get the most for your scrap vehicle.
Don't Remove Any Valuable Parts
Removing parts from your vehicle could decrease the value, especially if you have a vehicle in good condition for a model that's worth more. So where possible, keep original parts on your car or van as you could get more money than if you stripped the vehicle for parts to resell.
Get Refunded on Tax and Insurance
Did you know that if you pay for your car tax and insurance annually, you may be entitled to a refund? Once your scrap vehicle has been collected, get in touch with the DVLA and your insurance company to see if you could be eligible for a partial or full refund on any tax and insurance. You could also save costs by transferring your existing insurance onto another vehicle.

Use a Reliable Service
When it comes to your vehicle, whether old, damaged or simply unwanted, you'll want it to be treated responsibly. It's important to use a trusted car scrapper to dispose of your vehicle ethically and legally. Plus, you'll want a great service that's trusted, simple and hassle-free. That's why you should check out National Scrap Car's scrapping service.
Money for Scrap Cars Near Me
If you're looking for a scrap car company near you, simply enter your details into our free quote calculator. We'll then offer you top quotes from our expansive directory of scrap and salvage buyers. We collect hundreds of cars every day across the country using our vast fleet of recovery trucks and only work with the most friendly and courteous drivers. Our collections are free of charge, plus we'll guarantee the price quoted for your vehicle. You'll get a hand with the paperwork and get paid quickly. Easy!
Want to find out more or are you unsure of the process? Speak to one of our friendly advisors for more information and to get a quote.
Related FAQs
What Happens to My Road Tax if I Scrap my Car?
Once your vehicle has been taken away and the DVLA have processed the paperwork, you may be able to apply for a partial or full refund. Similarly, if your vehicle has been declared 'off the road' and a Statutory Off Road Notification has been issued, you may be able to claim back some, or all of your car tax. Contact the DVLA to find out if you're eligible and how much you could be entitled to.
What Happens to Your Insurance When You Sell Your Car?
Similarly to vehicle tax, you could be eligible for a full or partial refund on your car insurance. On the other hand, you could potentially transfer your existing insurance onto a different vehicle. Once your scrap motor has been collected, the existing insurance policy will either need to be cancelled, settled or transferred to another vehicle. Once the necessary paperwork (v5c) has been received by the DVLA, you'll no longer be the legal owner of the car, so you can either cancel your insurance, transfer it or see if you're entitled to a full or partial refund. Your insurance company will let you know if you are eligible and what your options are.
Do You Have to Pay to Scrap a Car in The UK?
No! For the majority of car scrappers in the UK, scrapping your vehicle is completely free. With companies such as us, National Scrap Car, you won't pay a penny for the service and we'll collect your scrap motor completely free of charge. We'll also offer you a top price for your vehicle, no matter the condition. National Scrap Car only works with Authorised Treatment Facilities (ATF) which means we operate responsibly, ethically and legally!
Do I Need to Tell The DVLA if I Scrap My Car?
Yes! Some car scrapping services will do this for you, but be sure to check with the company you are using, as you might be responsible for notifying them. It's important that the DVLA is notified that the vehicle is no longer in your possession, this is why the v5c is filled out and sent off. Once the DVLA has received the v5c (or logbook) you will be relieved of ownership of the vehicle, which means you'll no longer be responsible for it. Find out more about how to notify the DVLA when scrapping a car.
How Can I Get Rid of My Old Car for Money?
Yes! Getting rid of your old vehicle for money is easy. Selling your car or van can be tricky, depending on the condition of your vehicle and where you're selling. Scrapping is an easy way to find a genuine buyer offering a top price for your vehicle – no matter the condition. Companies such as National Scrap Car make it simple and hassle-free, with just a few details we'll offer you a free and instant price valuation for your vehicle, and we'll guarantee it! We'll also give you a hand with filling out the paperwork and take your motor away free of charge, you won't pay anything to use our trusted service.
Is There a Car Scrapper Near Me?
National Scrap Car works with experienced buyers across the country. To get a free valuation of your vehicle, simply fill in your car or van's registration and postcode and we'll find vehicle scrappers near you who can offer you a top quote for your vehicle. Quotes are generated in an instant and are completely free!