A car's title is an archaic way of talking about its registration book, or log book. Now better known by its official coding, the V5 document is still often referred to as a 'logbook' and forms an important part of the process when buying or selling a car. But what happens if you're looking to scrap a car without a title, or its V5? National Scrap Car is here to help clear things up for you.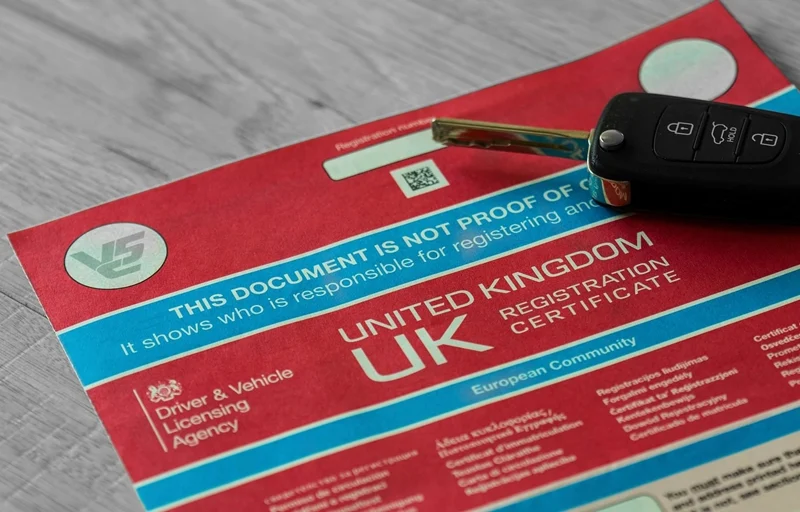 What is a V5 document?
A V5, or V5C, registration document is a physical booklet provided by the Driver and Vehicle Licensing Agency (DVLA) when a car is registered to drive on the road. The document will list the car's make, model, Vehicle Identification Number (VIN), engine size, date the vehicle was first registered, number of previous registered users and its colour. The booklet is not, however, a proof of ownership – this is emblazoned at the top of the front page – and is rather a record of the vehicle's registered keeper.
The V5 will have an 11-digit reference number, which is important to keep a note of, particularly if you are ever looking to SORN your vehicle. Registering a vehicle as SORN (Statutory Off Road Notice) requires you to have your V5 with you, as the reference number will allow you to make this application with ease.
When buying a used car, you should always ensure to check the V5 document thoroughly to ensure there are no discrepancies with the vehicle that's in front of you. Any differences, no matter how minute, should be a warning sign and should be investigated before any purchase agreements are made.
Can I scrap a car without a title?
It's not impossible to scrap a car without a title, but it can be a more tedious experience. To make things simpler, it's worth considering scrapping your car as a sale – in effect you're selling your car to a scrap yard, who will then ply their trade and get money out of the scrap metal it produces. An easy option is to apply for a replacement logbook from the DVLA, which can be done for just £25.
You'll undoubtedly be looking to make as much money as possible when scrapping and the thought of paying £25 beforehand may seem illogical, but you could find that potential buyers use the lack of a logbook as a bargaining chip to reduce the price. Getting a replacement book removes one potential negotiation block. Although not that common these days, some scrap yards insist on cars having a logbook before they go through their system.
Do I need proof of ID?
If you do not have a logbook, you may be able to sell your car nonetheless, providing you have proof of your own address and identity. This is due to the Scrap Metal Dealers Act 2013, which states that all Authorised Treatment Facilities (ATFs) must have proof of ID and address when purchasing vehicles for scrap so that they may track the customer in future if needed.
Any ID provided must be up-to-date photo ID, such as a driver's licence or passport and proof of address can be proven with a recent utility bill. These rules were put in place to cut down on vehicle thefts where the culprit scrapped the car before being tracked down and being paid cash in hand so there's no paper trail – and it's for this reason that it is also illegal for ATFs to pay cash for vehicles. Any record of sale will also be kept on file for three months.
What to do after scrapping a car without a title
If you've scrapped a car without a title then you'll need to go about informing the DVLA that it is no longer on the road. To do this you'll need to write to the DVLA by post, informing them of all the details required – your name and address as well as the vehicle registration, make and model. You'll also need to tell them the name of the scrap yard used, its address and the exact date the vehicle was scrapped.
If you do not send the relevant information then there is a possibility that your application could be rejected, meaning you'd still be registered as the keeper of the car, even though it doesn't exist. Failing to inform the DVLA at all could result in you facing a fine of up to £1,000.
Scrapping Made Simple with National Scrap Car
Here at National Scrap Car we're committed to finding you the very best price for your car. Simply put your details into our free online tool where you'll be given a quote in less than 60 seconds. What's more, with collections available up and down the country, we can also come and collect the car from you, at no cost to you, meaning all that's left for you to do is work out what to do with the money when it lands in your account.