Motorway service stations are a key part of the UK's road network and most of us have probably had to stop at one on a road trip, however, it's safe to say not all of them are as hygienic as others.
We at National Scrap Car, a scrap car price comparison site, have analysed food hygiene ratings at over 70 different motorway service stations across the UK, to reveal which are the worst to stop at for food.
After taking a look at the data revealed, you might want to think again before you take a random stop at a motorway service.
Key findings
From our results, here are the most significant findings:
When it came to major motorways with the worst service stations, the A14 was revealed to be the worst to be travelling on with an overall ranking of 4.25.
Three service station eateries scored just 2 for food hygiene.
The three worst motorway eateries for a pitstop!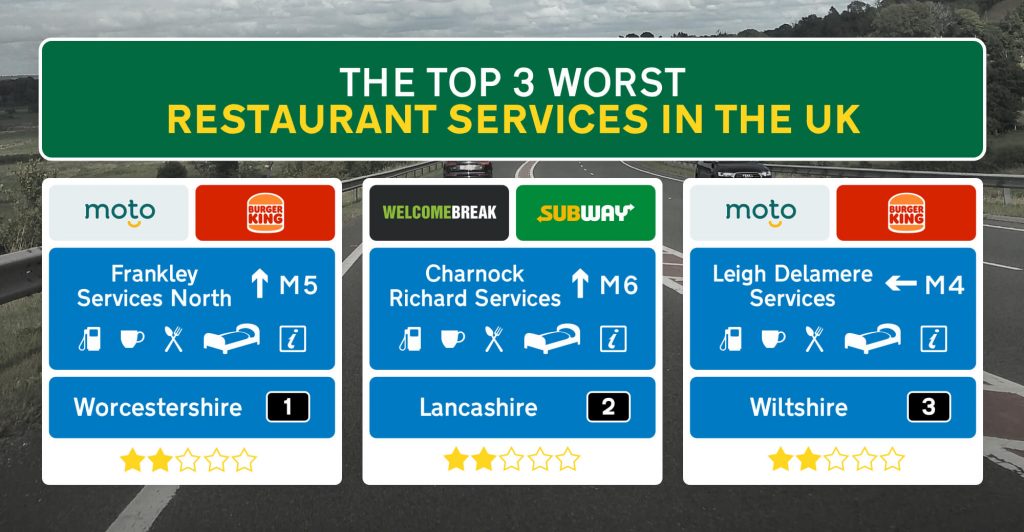 When looking at the data, we were able to identify the individual worst restaurants, so you can be sure to avoid them on your next road trip. Burger King located in Moto Frankley Motorway Service North between Birmingham and Worcester, Subway located in Charnock Richard services North near Manchester and Burger King located in Leigh Delamere Motorway Services near Bristol came top as the most poorly rated restaurants with a rating of 2 out of 5.
When looking at their reviews, it is no surprise these restaurants scored so low in their last inspection, with one visitor to the Frankley services Burger King stating:
"Would give it zero if I could. I don't know if it's because they are understaffed or what but the place was dirty the food was burnt. The worst part is that I found a hair on my burger (which is not surprising since they aren't wearing any hair nets) 🤢"
One Subway Charnock Richard services North customer simply commented:
"Nasty"
As for the Burger King located in Leigh Delamere, one customer left this review after a not-so-pleasant visit:
"I was quite unwell after eating at Burger King – the burger tasted a bit weird so I stopped eating it but I was quite sick that evening."
According to the Foods Standards Agency, "A (food hygiene) rating of 2 is given to organisations that score in the region of 35 and 40 points on an inspection. You can expect roughly this amount of points if there are questionable handling practices and outdated equipment. Receiving this rating means that there is still major room for improvement when it comes to your organisation's food hygiene practices."
9 worst motorway service eateries
| | | | | |
| --- | --- | --- | --- | --- |
| Brand | Hygiene Rating | Motorway Services | Motorway | County |
| Burger King | 2 | Moto Frankley services North | M5 | Worcestershire |
| Subway | 2 | Welcome Break Charnock Richard (North) | M6 | Lancashire |
| Burger King | 2 | Moto Leigh Delamere (West) | M4 | Wiltshire |
| Costa | 3 | Moto Heston (West) | M4 | Greater London |
| El Mexicana | 3 | Extra Cambridge | A14 | Cambridgeshire |
| PizzaLuxe | 3 | Extra Cambridge | A14 | Cambridgeshire |
| New York Bakery Bagels | 3 | Roadchef Strensham (South) | M5 | Worcestershire |
| Sweet Barrels | 3 | Extra Peterborough | A1(M) | Cambridgeshire |
| Tapori Curry Bar | 3 | Extra Beaconsfield | M40 | Buckinghamshire |
Worst road to be travelling on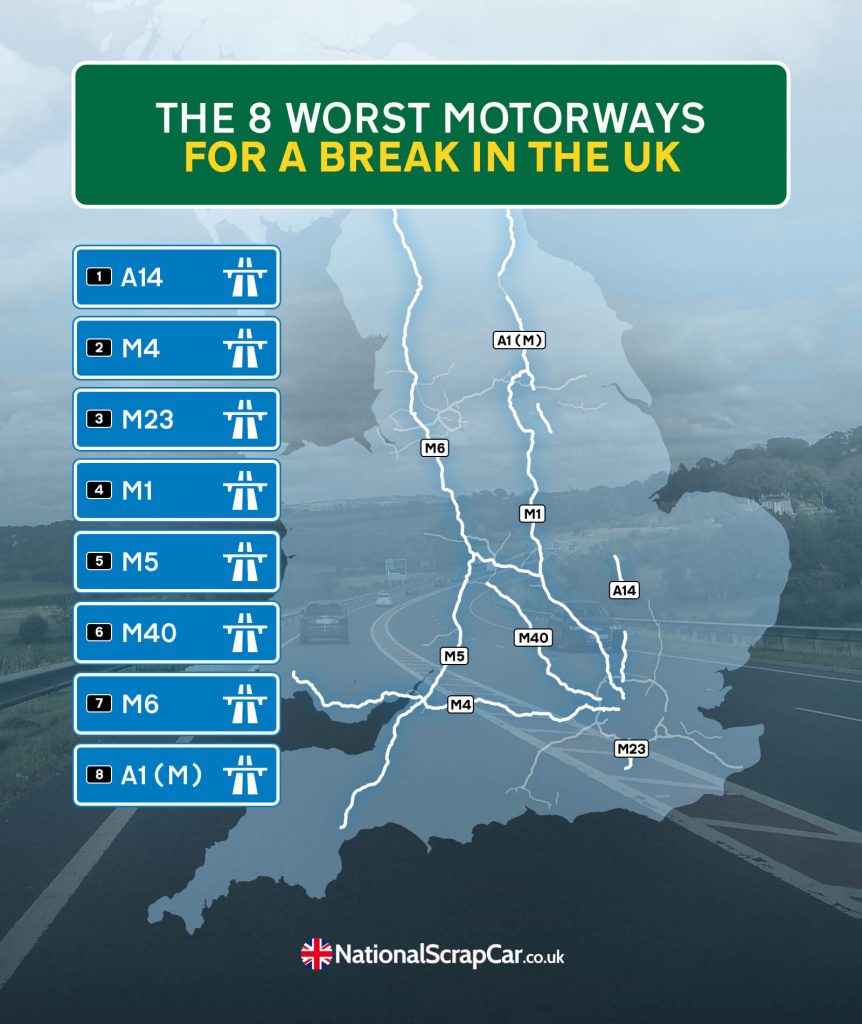 | | | |
| --- | --- | --- |
| Rank | Road | Average Rating |
| 1 | A14 | 4.25 |
| 2 | M4 | 4.71 |
| 3 | M23 | 4.75 |
| 4 | M1 | 4.83 |
| 5 | M5 | 4.85 |
| 6 | M40 | 4.86 |
| 7 | M6 | 4.89 |
| 8 | A1(M) | 4.91 |
| 9 | M1 | 4.91 |
With so many motorway services we wanted to discover which motorways were home to grottiest service stations. If you're travelling along any of these roads, you might want to steer clear of the services in this area – even if we are starving!
It's bad news if your road trip is along the A14, with this road being home to the grottiest motorway services with an average rating of 4.25 out of 5. In second place was the M4 with an average hygiene rating of 4.71 closely followed by the M23 in third place with an average hygiene rating of 4.75.
On the flip side, if you're travelling along the M1 then you're in luck, with this road being crowned the best for the most hygienic motorway services with an average food hygiene rating of 4.97.
Motorway services with the most "dirty" Google Reviews
When you see the food hygiene ratings our study has revealed of some of the restaurants and service stations it is no surprise that some motorists were left disappointed by their visits. We wanted to identify which of the service stations had the most "dirty" Google reviews, by analysing those which contained the most keywords such as 'disgusting', 'dirty', 'appalling' and 'gross' to name a few.
After analysing 43,079 1-4 star Google reviews for 71 motorway services, our data revealed that Welcome Break Membury Eastbound Services, located on the M4 had the dirtiest Google reviews with over 10% of all reviews left including one of the poor keywords we investigated.
Examples of the reviews left by disgusted motorists include "the place was a mess and rats were running in the car park" and "the toilets were disgusting, 6 of the women's toilets didn't have locks, a further 2 had no toilet roll and the remaining toilets were disgusting".
In second place with 9.8%, "dirty" reviews was Moto owned Frankley Southbound which comes as no surprise after our data revealed this service station also had the worst food hygiene scores.
One disgruntled motorist left stated "The toilets smelt absolutely disgusting and the one I used didn't flush. The baby changing room had no toilet for mum and that smelt awful. Improvement desperately needed".
In third place was another Welcome Break owned service station, Gordano Services located along the M5 with "dirty" describing words making up 8.3% of their reviews. One motorist's description for this service station was…
"Dirty, toilets smell of urine. Tables full of other people's empty stuff, tables covered in dried food. Had to use my own antiseptic spray and cloth to clean the table. Dustbins overflowing and many people commented on the bins. Queues for food were very long and service prolonged"
Methodology:
Food hygiene ratings for food establishments at motorway services were gathered and analysed to discover the most unhygienic motorway services, the worst services chain, the worst roads to stop for a break on and the worst three motorway restaurants.
Sources: https://ratings.food.gov.uk/
We then scraped 100 reviews for 71 motorway services and searched within the review text for mentions of the following keywords: disgusting, appalling, gross, filthy, dirty, vile, grotty, icky, nasty, dire, repulsive, dreadful, awful, horrid, horrible, horrifying, rank, smells, stinks.