The double bank holiday coming up is a great excuse to pack up your things and head off on a road trip to see the beautiful sights of the UK. Getting ready for a road trip with your family or friends can be an exciting adventure allowing you to see a lot more sights than you would if you were travelling by train or plane.
As the government's goal to ban the sale of new petrol and diesel cars by 2040 draws nearer and the number of EVs on our roads increases, the team at National Scrap Car sought to investigate the UK's best road trips for electric cars.
We've looked at the number of charging points available across each road trip featured on our list, as well as how many times you'll need to charge your car to complete your trip.
The Atlantic Highway is the best road trip in the UK for EVs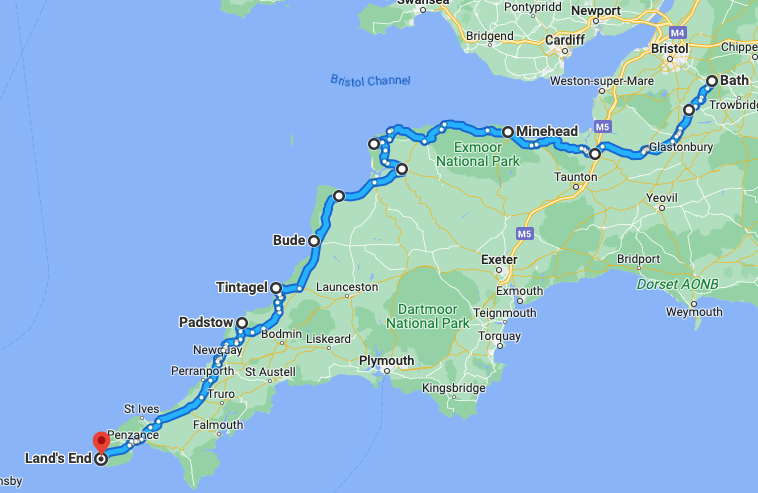 The Atlantic Highway ranked in first place for the best road trip to take if you have an electric vehicle. The Atlantic Highway features the largest number of EV chargers per kilometre than any other road trip on our list, with 0.22 chargers per kilometre and 90 chargers in total. You'll also only need 0.94 charges to complete this 7 hours trip.
Covering a distance of around 255 miles, this legendary road trip can be initiated from either Bath or the opposite end, Newquay. The route will take you through the renowned counties of Somerset, Devon, and Cornwall, located in the South West Peninsula of England. The journey is dotted with many fascinating sights, including dense forests, charming villages, rugged coastlines, and scenic green countryside.
Your road trip journey will begin in Bath, driving down through the scenic Exmoor National Park, where you'll traverse the undulating hills and catch a glimpse of magnificent red deer. From there, you'll drive through the delightful coastal villages of Barnstaple, Bude, and Tintagel before reaching Newquay, where you can ride the waves at one of the famous surfing beaches. Finally, the trip ends with a visit to the breathtaking Lands End, the westernmost point of Cornwall, offering incredible panoramic views.
The Cambrian Way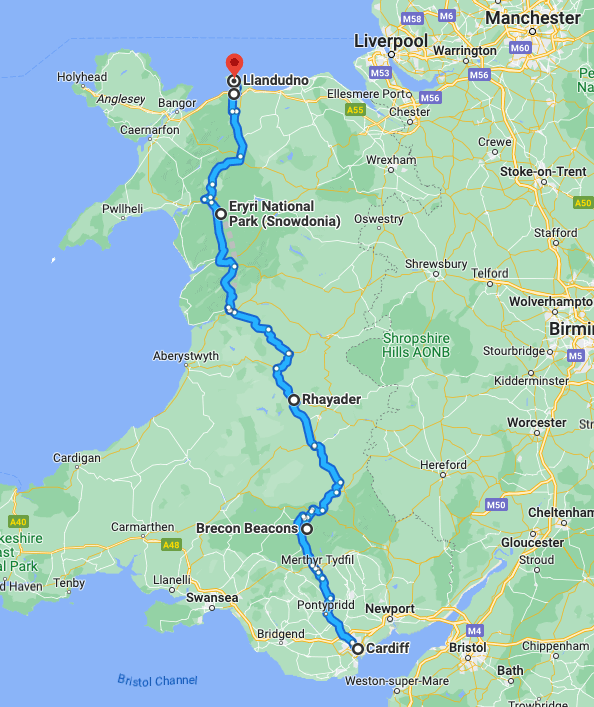 In second place came The Cambrian Way. This road trip will take you along the mountainous spine of Wales right through the centre of the country: from Cardiff on the south coast to Llandudno on the north. There are 65 EV charges available along the way, but you'll only need to charge your car 0.22 times across the whole trip which stretches approximately 290 miles. During this road trip you'll pass through the stunning scenery of the Brecon Beacons National Park, winding your way through valleys and lakes. After reaching Conwy, you'll end the trip winding through the dramatic scenery of the iconic Snowdonia National Park, ending up on the north coast.
The Norfolk Coast Loop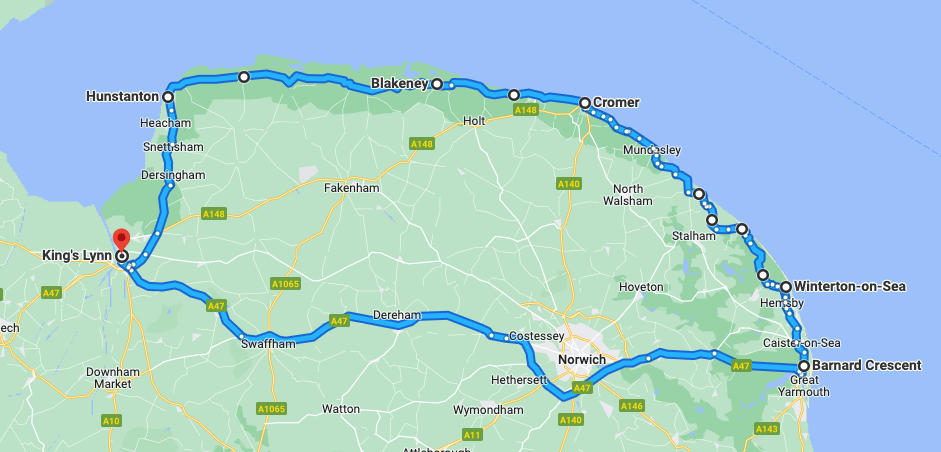 Our ranking of road trips for electric vehicles placed the Norfolk coastal loop at third position with a score of 15.5 out of 30. This road trip is just 159 miles and takes roughly 4 and a half hours to complete. You will need less than a full charge (0.41) to complete the trip, but if you need a charger, you'll find 34 available on the route. It's worth noting that there are only 0.06 chargers available per KM on this route, with the majority located in Kings Lynn, Norwich and Great Yarmouth. Therefore, we recommend making sure that you are fully charged before embarking on the coastal roads of Cromer, Blakeney and Hunstnaton.
The road trip starts in the charming market town of King's Lynn and takes you to the bustling city of Norwich. If you enjoy the energy and excitement of city life, you may want to take a break here and explore its mediaeval culture and history before continuing to the stunning coastline. Along the way, you'll pass by Cromer with its well-known pier, travel along the coastal road via Blakeney with its picturesque harbour, Wells-next-the-Sea with its colourful beach huts, and Hunstanton with its cliffs and lighthouse, before making your way back towards Kings Lynn.
Top 10 best UK road trips for electric vehicle
Rank
Road Trip
Route
KM
Miles
EV chargers
available
EV chargers
per KM
Charges
needed
Score
1
Atlantic Highway
Bath to Lands End
410
255
90
0.22
0.94
22.61
2
The Cambrian Way
Cardiff to Conwy
290
180
65
0.22
0.67
22.67
3
Norfolk Coast
Kings Lynn, along the Norfolk coast
272
159
34
0.06
0.41
15.49
4
Jurassic Coast
Bournemouth to Exmouth
319
198
33
0.1
0.73
13.99
5
The Cotswolds
Gloucester, around the Cotswolds
311
193
31
0.1
0.71
13.98
6
Lake District
Windermere to Ambleside
153
95
5
0.07
0.35
13.56
7
Mourne Coastal Route
Belfast to Mourne Mountains
161
100
8
0.05
0.37
12.86
8
Kintyre 66
Tarbert to Torrisdale
106
66
4
0.04
0.24
13.28
9
The Yorkshire Dales
Harrogate and round the Dales
187
116
9
0.05
0.43
12.39
10
Nairn Circular
Circular drive from Inverness to Nairn
208
129
10
0.05
0.48
12.01
7 Tips to Help You Get Through the Bank Holiday Rush Safely
1. Do the essential checks before setting off
Before setting off on any long journey motorists should always take the time to do the essential checks on their vehicles, particularly if this is their first long trip since winter ended.
The essential checks include:
Tyre pressure and condition
Oil levels
Headlights and brake lights
Wiper blades
If you are unsure of your car's recommended tyre pressure, consult your manual. Similarly, ensure you top up your oil with the recommended for your vehicle to guarantee better engine performance.
2. Plan your route ahead
It is no secret that fuel costs are extremely high at the moment, which means making sure you have the best route possible planned ahead is essential for fuel consumption and for an easier journey. On the other hand, if you drive an EV, make sure that you have a fully charged car or have planned in charge stops if needed.
Take a look at the different routes to your destination and weigh up the options based on your requirements. For example, if you are someone that requires regular breaks, a route that may be longer but have more service stations along it or opportunities to stop is the best route.
Check your route the day before leaving too to ensure there haven't been any changes such as road closures that will affect your trip.
3. Avoid peak travel times
As obvious as it sounds, avoiding peak times is the best way to avoid the bank holiday rush. This may mean sacrificing time in bed and hitting the road early or opting for a late night drive the day before your break.
You can get an idea of when a road is usually busy by using Google Maps. If you type your destination it will let you know how long the route typically takes and will show areas that are usually more congested during your estimated journey time by highlighting them in orange or red.
4. Stop for regular breaks
Long journeys can be very tiring for motorists, having to be "on" for the whole journey to ensure the safety of those in the car takes its toll. This is why it is important to plan in regular breaks along longer trips.
Stop for food and drink to make sure you are staying hydrated and fed to keep you focused, and if you are planning on leaving later at night to avoid the rush, try and have a nap prior to setting off. Driving tired is very dangerous, particularly if you are planning a short break somewhere rural, as there are likely to be fewer street lights.
5. Keep the traffic function on your radio
Most vehicles have a traffic function on their entertainment systems that will interrupt bluetooth music and such to give updates. On shorter and every day trips the interruptions can be frustrating but it is important to keep this on for your longer journeys.
Some cars will have map apps that will automatically update to accommodate for any delays or disruptions but having the function on will allow you to be fully informed on your travels.
6. Have breakdown cover
Breakdown cover is a type of insurance you take out in case your vehicle breaks down. It is extremely useful to have when embarking on longer trips, if you get a flat car battery or a punctured tyre or even more severe faults for example that cause you to get stuck, having breakdown cover will mean that the fault is either fixed at the roadside or you will be recovered with your vehicle and taken somewhere they can fix it or home
You can either purchase breakdown cover as an individual policy, or it can be offered as part of your motor insurance or even bank account. Check what is available and compare, like travel insurance, it is better to have it and not need it than to be without.
7. Know your limits the night before driving home
Bank holidays are synonymous with barbeques and having one too many drinks, however if you are planning to drive you need to be aware of your limits the night before/ day of driving home.
It's around three hours after each drink if you drink one large glass of wine (250ml/three units) or a higher-strength lager, beer or cider (5.2%) before the alcohol leaves your system.
The maximum BAC (blood alcohol content) limit in England & Wales is:
35 micrograms of alcohol per 100 millilitres of breath; or
80 milligrams of alcohol per 100 millilitres of blood or
107 milligrams of alcohol per 100 millilitres of urine
The maximum BAC (blood alcohol content) limit in Scotland is:
22 micrograms of alcohol per 100 millilitres of breath; or
50 milligrams of alcohol per 100 millilitres of blood or
67 milligrams of alcohol per 100 millilitres of urine
It is important to remember that nothing can make the alcohol leave your system any faster, including sleep and caffeine. You can use this calculator to work out your blood alcohol content so you know when you need to stop drinking in order to drive safely.
Being in charge of a vehicle while above the legal limit is a serious offence and can result in 3 months imprisonment, a fine of up to £2,500 and in some cases, a life-long driving ban.
Methodology
We collated data from various sources/articles to determine the most well-known road trips in the UK. We put each route into Google maps to find out the total distance of each road trip, both in miles and KM.
We then put each route into Zap Maps route planner to find out the approx number of available EV chargers along the route, the range of the most sold electric vehicle of 2022 (Tesla model Y with 270 miles) was then used to see how many charges would be needed if travelling each road trip.
All data is correct as of April 2023.