As the leaves begin to change and temperatures drop, stories of ghouls, haunting manifestations and spooky behaviour begin to circulate.
With dark nights creeping earlier and earlier, how about embarking on a thrilling road trip in your van along the winding roads up and down the country? It's the perfect time to encounter the mysterious things that go bump in the night.
At National Scrap Car, we have analysed paranormal sighting data to discover England's most haunted roads where you are most likely to spot something out of the ordinary.
Counties with the most haunted roads
Our study revealed that the most haunted roads can be found in Wiltshire, with 59 recorded sightings in this region making it England's most haunted county.
Yorkshire ranks in second place, closely followed by Dorset.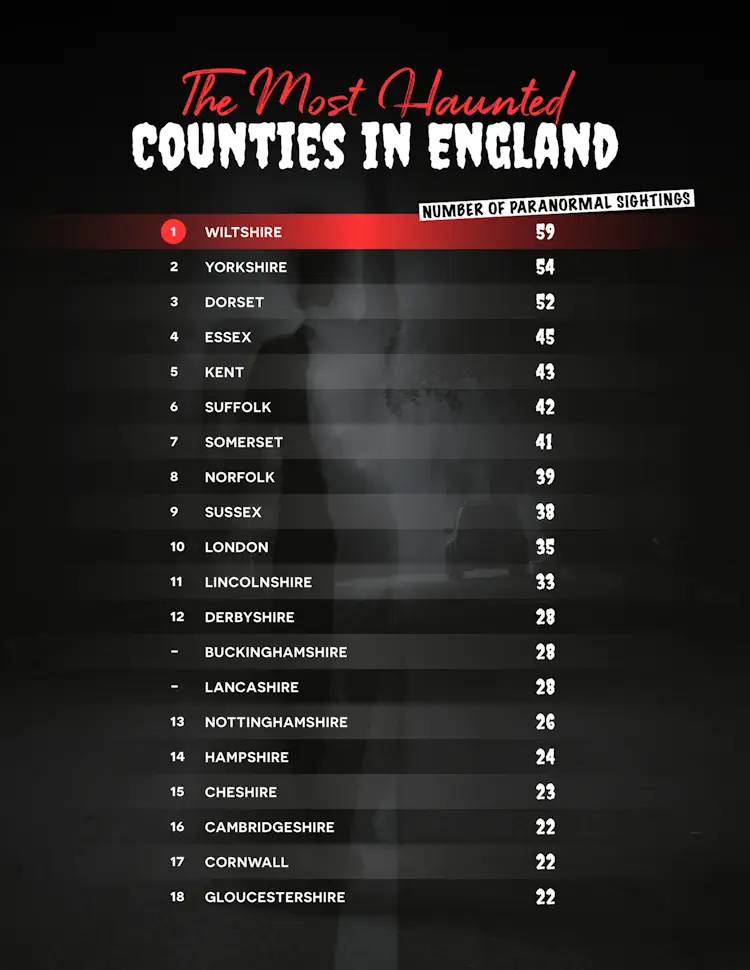 Wiltshire
Located in South West England, and home to the iconic Stonehenge, there have been 59 supernatural sightings along Wiltshire roads.
The village of Bowerchalke, situated at the crossroads where Hampshire, Wiltshire and Dorset meet has the highest concentration of sightings with the local story of Kit's Grave unsettling travellers in the area. The woman only known as Kit is thought to be buried at the crossroads to the south of the village after drowning herself in a well nearby. The reports say the surrounding area is devoid of birdsong.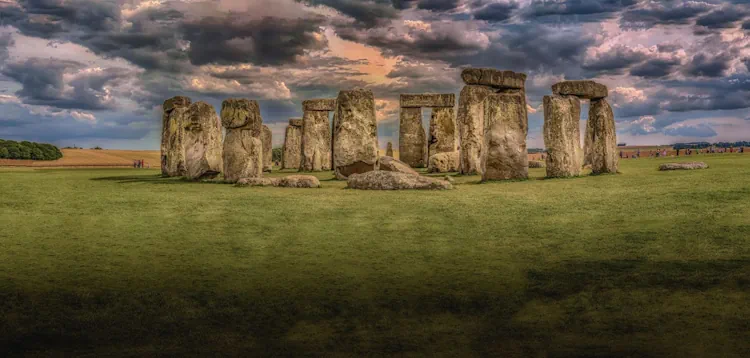 If you follow the road that leads from Bowerchalke towards neighbouring village Woodminton you may also spot the supernatural with sightings of headless horses have been reported galloping in the fields. Rumours of fierce fighting can also be heard as the area is thought to have been the site of a battle between Roman legionnaires and the Britons.
Salisbury, the county's largest city has 2 recorded sightings including the phantom of a highwayman who haunts the A30 and a ghostly horse who would gallop on the A345.
Yorkshire
With its Roman and Viking heritage and rolling moors, it's no surprise that Yorkshire ranks highly for its supernatural sightings.
With 54 sightings reported along roads in the county, 46 of those were classified as haunting manifestations.
Visitors to the paranormal database have reported phantom women haunting Highcliffe Road and Handsworth Road in Sheffield, with the latter sighting reported in 2014. While waiting at a bus stop, two people spotted a grey-coloured older woman walking past them, she turned and looked directly at the people at the bus stop before vanishing in a flash.
In the historical city of York, sightings include that of the infamous highwayman Dick Turpin on the A64, who is said to ride on horseback near the sandstone cave in the area that is said to have been one of his hideouts. Turpin became the subject of legend after his execution in 1739, romanticised as dashing and heroic in English ballads and popular theatre of the 18th and 19th centuries.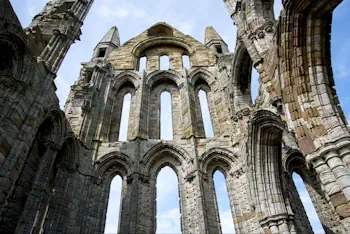 Another supernatural Yorkshire location is the junction on the A58/ A641 known as Hell Fire Corner. Ghostly horsemen, phantom cars and unspecified flying objects have been reported around this junction. The area is considered an accident black spot, so the question to ask is do these mysterious presences cause the accidents, or are they the products?
Dorset
In third place is the southern county of Dorset, with 52 recorded sightings on roads in the county.
Home to the ghost of Lawrence of Arabia, the famed and romanticised British officer credited with leading the Arab revolt against the Turks during World War I – a feat depicted in the epic film Lawrence of Arabia, and Athelhampton House which is regarded as one of the ten most haunted houses in England expect to feel a cool chill whilst driving along the Jurassic Coast.
A must-stop on any spooky roadtrip in the area is the village of Powerstock. Two groups of pallbearers have been reported along its roads. The first group appear to be headless and can be sighted carrying a coffin slowly along the North Poorton road, while the second have also been spotted carrying a coffin along a lane leading to West Milton, but it is not known if both groups are related.
Interestingly, pallbearers have also been spotted 32 miles away in the village of Lytchett Matravers and 40 miles away in Briantspuddle Heath, similarly carrying a coffin and walking along the country lanes.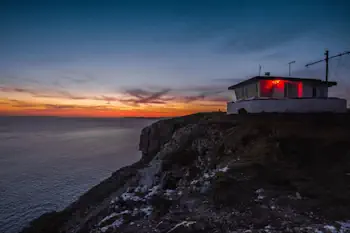 Top 10 regions with the most haunted roads
| | |
| --- | --- |
| Region | Number of paranormal sightings |
| South West | 218 |
| East | 179 |
| South East | 146 |
| East Midlands | 114 |
| North West | 79 |
| West Midlands | 69 |
| Yorkshire | 54 |
| London | 27 |
| North East | 16 |
With an impressive 218 spooky sightings along its roads, the South West has ranked in first as the most haunted county.
While ghost-busting in the area make sure to visit Wiltshire, Dorset and Somerset to increase your chances of spotting some ghoulish activity as they host the most haunted roads in the region.
The East and South East of England rank in second and third place with 179 and 146 sightings respectively.
Essex and Suffolk have the most haunted roads in the East while Kent and Buckinghamshire roads are the spookiest in the South East.
Interested in sighting your own sceptres?
Why not go for a spine-tingling journey into the heart of England's most haunted roads? As you drive along ancient thoroughfares and winding lanes, watch out for phantom hitchhikers or ghostly highwaymen, these haunted routes are steeped in eerie legends and chilling encounters.
Our recommended road trips take you along some of the most ghoulish roads in England where every bend reveals a tale of the paranormal and the unknown…
West road trip from Truro to Carlisle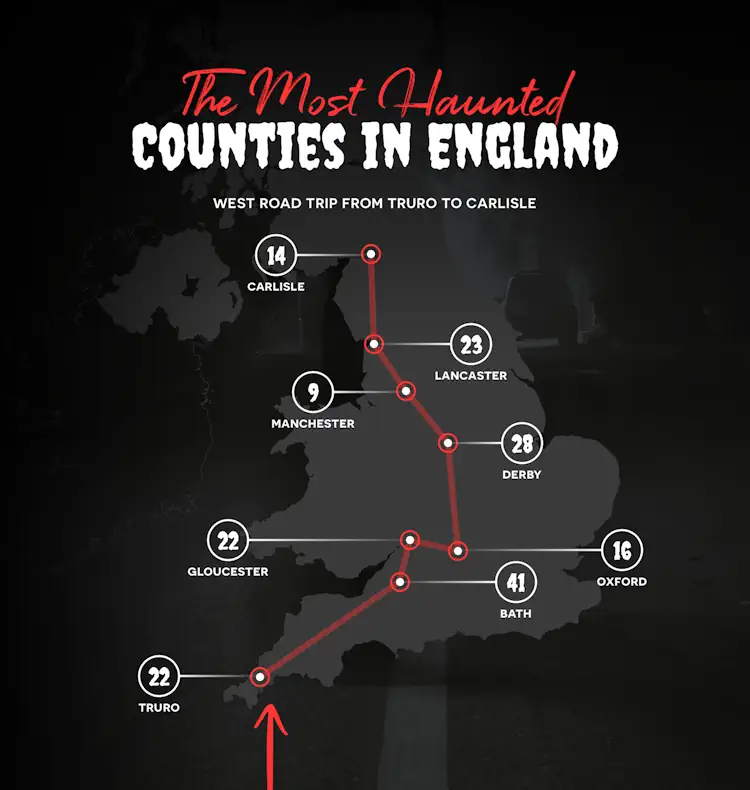 Embark on a haunting road trip from the picturesque town of Truro in Cornwall to the historic city of Carlisle in Cumbria. This scenic journey will take you on a memorable adventure through the heart of England.
Exploring the landscapes of Cornwall, the West Country, bustling cities like Bristol and Manchester, you'll encounter the haunting beauty of the Peak District National Park and the Lake District as the autumn colours begin to change.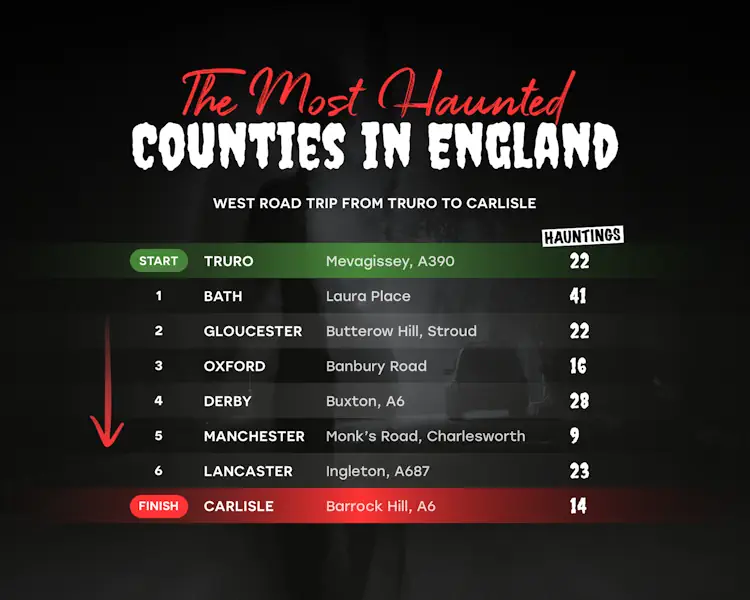 East road trip from Bournemouth to Newcastle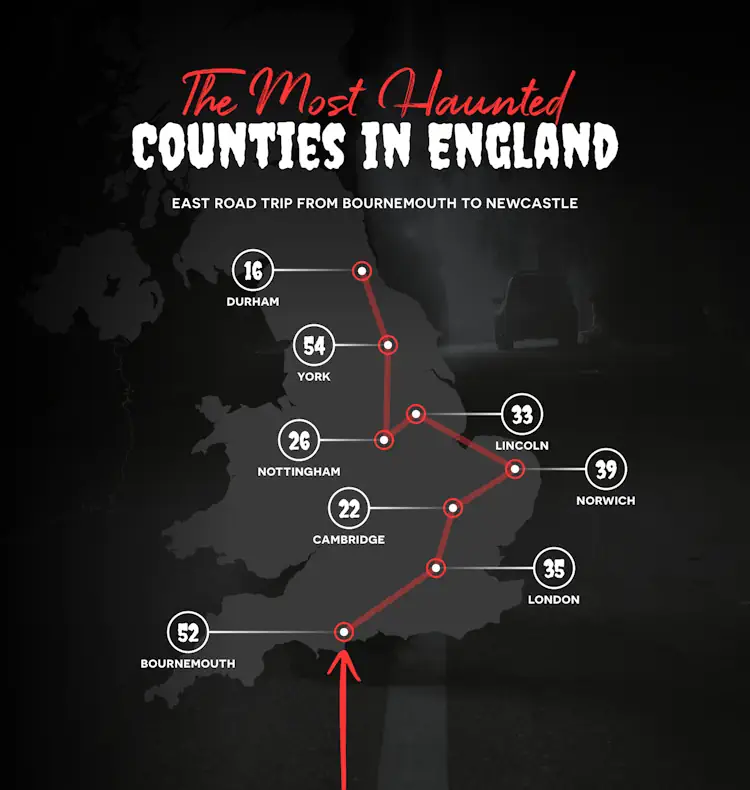 This epic road trip stretches from the chilling shores of Bournemouth to the hair-raising cityscape of Newcastle upon Tyne. This journey promises a diverse range of experiences, from coastal beauty to urban excitement.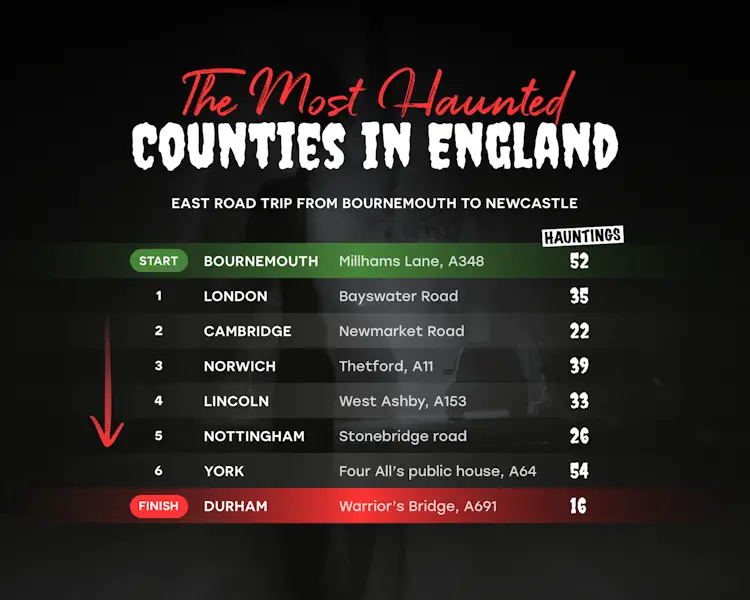 Tips for practising road safety this Halloween
Whether you're out ghost-busting or en route to some Halloween festivities, it's essential to practise road safety whilst driving.
To avoid being caught out here are some of our top tips:
1. Avoid wearing full costumes while driving
It's essential to have full visibility and freedom of movement while driving. Wearing elaborate costumes with masks, elaborate headgear or restrictive clothing can impair your ability to see and react quickly.
Rule 97 of the Highway Code states, "You should ensure that clothing and footwear do not prevent you from correctly using the controls."
Therefore, making a potential mistake like this could land you with a £100 on-the-spot fine as well as three penalty points for wearing clothing which could restrict proper driving.
These fines can be upgraded to £5,000 in addition to nine penalty points on their driving licences.
Instead, consider changing into your costume after reaching your destination to ensure your field of vision is clear and unobstructed.
2. Choose comfortable footwear
Similarly to changing into your costume at your final destination, if you plan to wear special footwear as part of your costume, make sure it doesn't hinder your ability to operate the pedals effectively.
Driving in bulky or oversized shoes can be dangerous and result in a hefty fine.
3. Watch out for pedestrians
With the streets busy with Trick or Treaters, children and adults alike will be out walking in costumes.
Slow down when driving through neighbourhoods or residential areas, especially where there are no pavements.
Children may dart out unexpectedly so be prepared to stop quickly. Drive cautiously and be extra vigilant to avoid any serious accidents.
4. Be cautious of coloured contact lenses
Coloured contact lenses and tinted glasses are popular accessories for Halloween, but if you can't see the road properly you could be endangering yourself and other road users.
According to Rule 92 of the Highway Code, drivers must be able to read a vehicle number plate, in good daylight, from a distance of 20 metres. Meanwhile, Rule 94 says that at night or in poor visibility, drivers shouldn't use tinted glasses, lenses or visors if they restrict their vision.
Therefore, wearing anything that limits your eyesight could result in a charge for 'failure to have proper control of the vehicle or full view of the road and traffic ahead' and a £1,000 fine or three points on your licence.
5. Stay alert and distraction-free
It's important to stay alert and distraction-free while driving. Avoid distractions like texting, adjusting your costume, or fiddling with props while driving and keep your attention on the road at all times.
Methodology
We collated data from 1,500 entries into the Paranormal Database to refine the haunted sightings along roads in the UK.
All data is correct as of October 2023.