Whether you're selling, scrapping or looking to tax your vehicle, your V5C is an important document, which makes parting with the vehicle a lot easier. If you've lost or simply misplaced your V5C, we've put together a useful document on how you can continue without one, and how to replace it.
How to Tax a Car a Without a V5C
Typically you will tax your vehicle with a V11 reminder, however you can also tax it through your V5C if you are the current keeper. If you don't have your V5C to hand, simply use your v11 reminder or a v62 application – if you're the current registered keeper of the vehicle. For full instructions read our guide on taxing a car without a V5C.
V5C Logbook example: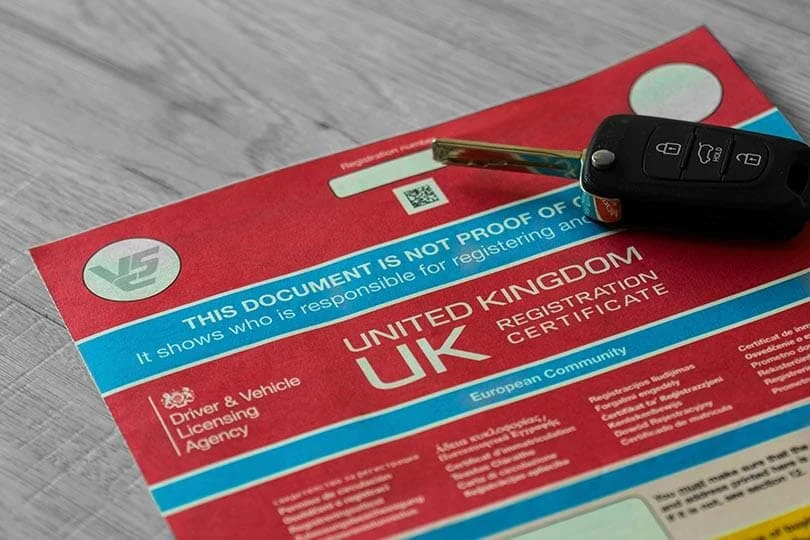 How to Scrap a Car Without a V5C
It is possible to scrap a car without the v5c, all  you need to do is provide the DVLA with all the following information:
Your name and address
Vehicle registration
Vehicle make and model of vehicle
Date the vehicle was collected
Name and address of the buyer who collected
You can find out more, including the address to send it to on the gov.uk website here.
How to Sell a Car Without a V5C
It is possible to sell your call without your v5c logbook, however this may not be appealing to potential buyers. The DVLA recommends not to purchase a car without the v5c, as it could lead to problems. For example, while a v5c doesn't prove ownership of a vehicle, not having one could feel suspicious to a few buyers and may lead them to think the vehicle could be stolen. If you're selling without a v5c, without waiting for your replacement to arrive, buyers could think you're hiding something regarding the vehicle. Lastly, not having a v5c could cause buyers to think you've taken out a logbook loan, a way of borrowing money based on the value of your vehicle which is used as collateral. To save yourself the time and hassle, it's best to replace your v5c before selling.
How to SORN or UnSORN a vehicle without a V5c
You can choose to SORN your vehicle if you're not using it for a period of time, if you've not renewed your insurance or tax or if you're planning to scrap it. If you wish to add a SORN to your vehicle, you can apply online, over the phone by calling 0300 123 4321 or you can apply by post. To find out more on the SORN process, read our thorough guide on SORN all you need to know.
How to Get a New V5C Logbook
If you're the registered keeper of the vehicle and you need to get a new log book, you can apply online. If your name or address has changed, or you've sold, scrapped or bought a vehicle, you can apply for a new v5c by post. If you apply online, you can expect your v5c within 5 working days. If you've applied via post, you will need to wait up to 6 weeks for the replacement.
It costs £25 to obtain a new v5c logbook, and to apply you will need to hand:
Your vehicle registration
Your VIN/chassis number of the vehicle
Your name and postcode registered on your log book